Ecademy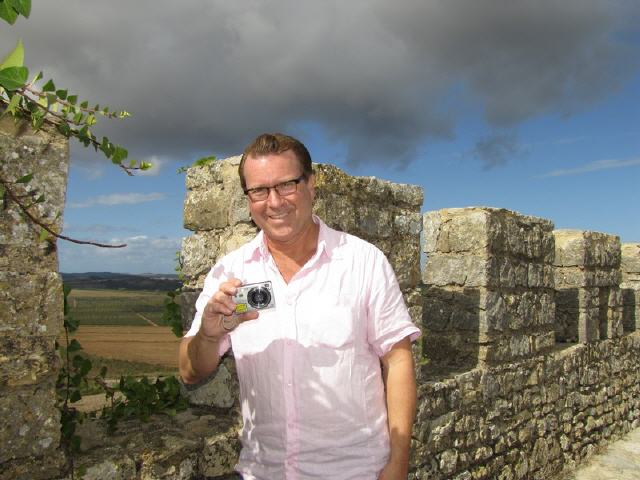 yu Shuang [ 17-Dec-10 5:43pm ]
Dear Rolf,

I am very happy to know you!
Thank you for visiting and reading my profile.

And, I have to say that your profile is awesome!!!
The best profile I've ever seen!!!

Hope that we can keep in touch.
Best regards,
yu Shuang
http://www.ecademy.com/user/yushuang



Gyula Julius Reznicsek [ 27-May-10 11:48am ]

Thank You for the JOIN
You make me happy
Welcome and I'm proud to know you in my friend yard
Yes, The Impossible takes a little bit more longer....

Best,
Julius The Openeyed Daydreamer



Airi Tõnisson [ 30-Apr-10 11:54am ]

Dear Mr Waeber,

I am impressed by your profile and honored to be connected to you.

I wish to you great success,
Airi Tõnisson
from Estonia



Ferdinand Felix Casantusan [ 28-Aug-09 6:35pm ]

Rolf is a true gentleman ecademist. He is highly appreciative, proactive, responsive, professional, open-minded and an optimistic networker.

Deborah Lillis [ 9-Aug-09 1:42pm ]

Fabulous, inspriational, enthusiastic and driven entrepreneur! Keep up the good work Rolf.
Debs


Rob McCarthy [ 7-Aug-09 5:13am ]

It's a pleasure to be connected with Rolf.

Best regards,

Attorney Rob McCarthy
Attorney Robert J. McCarthy, Jr.
Elect Rob McCarthy 2009


Ilona Covert [ 29-Jul-09 10:49pm ]

Over the last few months Rolf has become a good friend. He is very caring and reliable. -- He has extended himself to assist me in my quest to have a painting authenticated. -- I appreciate his encouragement!

Ilona Covert


Nouha Eljassim [ 27-Jul-09 11:20pm ]

Rolf is an intelligent, hard working businessman. An extremely qualified resource, very creative and has strong communication skills. I would recommend Rolf as a valuable part of this community

Thanks Rolf

Nouha


Yvonne van Dyck [ 18-Jul-09 6:55pm

Dear Rolf,

first I need to say: I´m sorry - I thought I would have recommended you long time ago ... and now it´s time to say THANKYOO.
We meet at Facebook, Yasni, Plaxo, XING and everytime its simply a pleasure being in contact with you!

All the best for your new book


Mihaela Mihăilă [ 12-Jul-09 8:57pm ]

Thank you for having left a testimonial, Rolf. It is a pleasure to be part of your network.

Best regards,
Mihaela


Dominic Verbruggen [ 10-Jul-09 7:18pm

Rolf, I sincerely think you are a valuable asset to any network! That's why I would like to invite you to join me on my website
http://theopennetworkersforum.ning.com/ . That is, if you haven't already of course


Johnny Blue Star [ 4-Jul-09 9:55pm

Rolf Waeber has had an extraordinary career, but apparently has never lost his thirst for knowledge and curiosity about the planet. I am very pleased to be able to network with him about the affairs of this world and beyond
Mihaela Mihăilă [ 30-Jun-09 7:47pm ]

Thank you kindly for having invited me to your network.

Greetings from Bucharest.

Mihaela


Liza Morado [ 29-Jun-09 8:05pm ]

Rolf comes into my internet sphere with a blazing light.....he's high energy and to his world a delight. He'll understand my plight, as soon as I get it right. He's got it right. Trust me.
Liza Morado


Emma Ravalimanana [ 20-Jun-09 10:46pm ]

It's a big honor for me having Rolf to my networking! Rolf is a Man with an Extreme Value from Personal Education to Professional Career.

Rolf, I'm so happy having you to my all networking and I wish the BEST success to us to the future


Jennifer Bloom [ 14-May-09 6:16pm ]

I'm pleased to count Rolf as one of my contacts here on Ecademy.

Changing Lives,

Jennifer


Asghar Ali Khatau [ 31-Mar-09 7:00pm ]

Rolf has awesome profile.
I am honoured to be connected to her network

You may also connect in my other global networks @ Ecademy, Facebook, InterNations, LinkedIn, Nayms, Plaxo, Sta.rtUp Biz, Viadeo, Xing

Best Regards and warm wishes to you and your loved ones.
Asghar Ali



Gerner Petersen [ 16-Mar-09 3:53pm ]

Dear Rolf

Thanks to join me to your contacts and share network, its my pleasure to have you in my friends list.
Feel free to contact me, if you think there is something I can do for you.

Kind Regards
Gerner


Lucky Sadkong [ 16-Mar-09 8:12am ]

Sawasdee Ka

Thank you for connecting with me here on the Ecademy network.

My boss Julian Stanley is a marketing guy and he knows the power of networking.

He has told me to concentrate on recommendations; they are the best form of advertising. He tells me nearly every day that if every person you know has 10 friends that they recommend you to and those 10 friends then recommend you to their 10 friends. That would mean that for every friend that trusts your recommendations, 1,000 people would know about you, Think of the possibilities.

We currently market several projects here in Thailand. 1; A condo project with low capital cost, high ROI. 2; High quality serviced retirement homes. 3; High Tech Vehicle tracking systems.4; Exclusive high end sea view apartments.

I look forward to networking with you in the future.

Best regards

Lucky
lucky@condospattaya .com



LISA (Siv Lise) Bedringaas [ 12-Mar-09 7:30pm ]

Hello Rolf.

I'm honored that we are connected and your beliefs and treasures are really connecting with mine. I'm really looking forward to work with you. This will be a fantastic journey. And your book - i cant wait to read it. Lisa



Evelyn Suárez [ 11-Mar-09 4:47am ]

Hello Rolf,
Thanks for connecting. You are amazing person. I´m pleased to have you as a contact.
Saludos desde Uruguay!!!
Evelyn


Sarah Elwyn Irwin [ 5-Mar-09 11:26am ]

Rolf, thank you!
It is my pleasure to connect with you.
What an amazing profile!
I am looking forward to reading your books.
Warm wishes,
Sarah Elwyn


Asghar Ali Khatau [ 2-Mar-09 2:20pm ]

I am honored to be connected to your network
I look forward to our closer friendship and mutual business relationship.
Asghar Ali
www.rinenterprises.com

Bunny Parkinson [ 27-Feb-09 7:05pm ]

Hi Rolf~
I am very pleased to meet you~
MY JOY TO CONNECT~
Your profile is quite Impressive and fun to read~
Many days of friendship ahead~
HAVE A FANTASTIC FRIDAY~WONDERFUL WEEKEND~
Bunny~


Fatma Kaya [ 23-Feb-09 6:47pm ]

I am pleased to be able to rank you among my contacts.

Kind regards,

Fatma Kaya


Saravjit Singh [ 13-Feb-09 4:24pm ]

Rolf is highly talented and a very versatile artist.
I am fortunate to have him as a friend.


Muhammad Siddique [ 12-Feb-09 9:25pm ]

Glad to be connected and that you are part of my circle of friends. You are a valuable part of my network, and thank you for being part of ecademy.

Sincerely,
Siddique
Writer at TRCB.com
http://www.trcb.com/author/siddique.htm


Manashi Duttagupta [ 10-Feb-09 8:24am ]

Hi Rolf,
Thanks for the connection. I am honored to be connected with you. Your profile is very interesting and it was really nice to know about you. I believe you are a very talented person. Keep in touch.
Regards,
Manashi.


Eva Maria [ 20-Jan-09 9:03am ]

Thank you for allowing to connect with you. Thank you for your kindness and open heart!

I wish you too all the very best in our dreams and passions because people like you will standout and change the Earth for the good!

Yusss!!!

Much love, peace and respect,
Eva-Maria


zaka nayeem [ 16-Jan-09 7:03pm ]

HERE, I M TO GIVE MY 1000 TIMES SALUTE & STANDING OVATION TO THIS PERSONALITY AS HE IS A VERY HIGH PROFILE AND VERY EXPANDED KNOWLEDGE PERSON !!!!


Janette Coulthard [ 15-Jan-09 8:04pm ]

It's great to be connected to Rolf, so many good qualities and interests. I am delighted to have Rolf in my network and honoured to be part of his.


Radwan Algafir [ 15-Jan-09 9:47am ]

It is my pleasure to connect with Rolf

He is highly recommended

all the best
Radwan Algafir
Rahwanji Cards International


Marzena Melby Twin Cities Homes [ 14-Jan-09 10:41pm ]

Hello Rolf,

Thank you so much for connecting. I look forward to many networking opportunities for us on Ecademy.
Warmly,

Marzena Melby


Sussi "Improve your English" Lassen [ 11-Jan-09 11:27pm ]

Rolf is a tremendous giver and thinker to your thoughts no matter how varied they may be in the first place.
A great addition to my network.

Thanks Rolf.

Regards


Ramesh Shankerlal [ 7-Jan-09 5:53pm ]

Wish you Success in your Journey through 2009! ………..
Its a pleasure to connect with you.
I look forward to network with you for discussing any business that is legal and profitable as well as mutually beneficial for both of us

Best Wishes


Natacha Guimaraes [ 4-Jan-09 5:15pm ]

Dear Rolf
Thanks for the connection...is a pleasure for me being part of your networking
wish you a happy 2009
regards
natacha
www.jvnonline.com
www.jvnonline.blogspot.com


Vipul Tank [ 3-Jan-09 4:21pm ]

Hi,

Thanks for your interest. Glad to connect to fine people like you seem to be !

Happy New Year...!!!
Have a great day and thanks again !
Keep in touch...
Take Care..........
Thanks…!!!
Have a Good Day…..!!!

With Best Regards,
VIPUL K. TANK
Document Controller

Ronald L. Taylor [ 27-Dec-08 7:54pm ] |

It is an honour to be connected with you on Ecademy. I look forward to our networks being of mutual benefit to one another.


Lutti Anderholm [ 18-Dec-08 10:10pm ]

Fantastic people and networker like Rolf symbolize what ecademy´s all about!!
Lutti


louis mollerfors #4 [ 8-Dec-08 12:44pm ]

I had the great opportunity to meet Rolf at the Danish Christmas party. A very open, positive person, and fascinating to hear his experience of fire-walking.



A Andrea Turcsanyi HELPS! [ 6-Dec-08 9:32pm ]

Honest welcome to my fast growing network! I rated you good!

I'm very happy to see you in my network! We are strong together!
See you in Budapest!
Best regards,

Andrea Turcsányi



Carl Willy Carlsson [ 3-Dec-08 9:13pm ]

I met Rolf in Copenhagen even if I could not stay for the evening. He seems to be a serious networker and has an ambition with his networking so I am glad that he is in my network and I recommend him for contact.


Dan Ion OPREA #3 [ 3-Dec-08 11:22am ]

Dear Rolf, I am glad we met in Copenhagen and I hope you will agree to discuss some more about traveling, working in media and outer worlds as we meet them here on Earth. I also apreciated very much your insights about project opportunities within Switzerland interest fields. I think you are a great networker.


Lars Larsson [ 2-Dec-08 1:19pm ]

I met Rolf in Copenhagen on the 29th of November 2008 at the Ecademy Christmas Event. It always great meeting people you never met before and I have got that opportunity concerning Rolf. Rolf was a very positive experience and he is one of those you definitely will stay in touch with.


Geert CONARD [ 2-Dec-08 1:28am ]

I had the pleasure of meeting Mr. Bond (inside joke) during my networking visit to Denmark. I have to admit I really enjoyed his company and his witty sense of humor.
Rolf is a man of many skills and trades, he is a writer, actor and expert on science fiction issues. A great addition for your network !


Flemming Eiberg [ 2-Dec-08 1:02am ]

Hi Rolf,

It was great meeting with you in Copenhagen. You are a great guy, and I look forward to meeting with you again to further discuss your work on extraterrestrial life


Bente B Lindstroem [ 1-Dec-08 11:13pm ]

Hi Rolf
It was nice to meet you in Copenhagen this week-end.
You are so present with good energy and kindness.
Your Ecademy profile is adventurous, like yourself.
All the best for the future
Bente



Mark Robinson [ 27-Nov-08 2:33pm ]

Great networker to connect with!! I appreciate that you accepted my request

Please do let me know if I can be of any help to you.

Kind regards,

Mark

Club Leader:

Recruitment & Employment Confederation (REC)


Debourah Borg [ 22-Nov-08 8:05pm ]

Rolf I have only met you through your emails and you mentioned us being twin souls....I really do believe that is the case....I am senstive to energies and I believe your energy is very special...a real gift to the world....so much tallent and heart...two very special combinations...

Rolf has a big heart and is sincern honest and fun! Just by reading his profile and his colourful life and now our new joint business venture together which will bring even more fun into ourlives...I am happy to share my networks with Rolf.

Rolf joined me in my cash and travel club www.clubfreedom.biz/color402 today and I am happy to be working with him.....and I will come visit your beautiful country and met you in person in the very near future....

All I can say is Rolf is defintely someone to have in your network his energy alone will influence anyone who comes in contact with him....I believe there are no coincidences and the fact that Rolf and I are so much alike would be interesting to explore....

Rolf you dont know this that I am more alike to you than you even think....I have done Modeling, T.V Commercials, Extras in Movies, I am also interested in UFO's and I believe there is more out there than just this planet....I have walked over broken glass not fire yet....and I am interested in the unusual...my book I am reading now and just finished is The Devine Matrix by Gregg Bradden and I love Quantum Physics and Spiritruality as they are now coming together...its an interesting world right now....

Thank you Rolf for sharing yourself so openly....and I will look forward to sharing many more experiences along the way.....

Yours for a Better Image,

Love, Life and Light

Debourahx

www.debourahthecolourlady.com
www.orangeunderpants.com
www.clubfreedom.biz/color402


Janie Pendleton, Novelist [ 16-Nov-08 12:15am ]

Well....I just had to add 'another' testimonial for Rolf as he recently sent me his new 2008 movie "Bad Siren", where Rolf plays the only lead/male role. He first appears in a shadow stricken hallway, which by the way, scared the bejeebies out of me...lol...and after scaring two young woman, he soon hooks up with them and another woman in fearless pursuit to find out what evil forces are taking over their small village. This film consisted of human zombies that were once friendly neighbors to the foursome, and had several scarey nightime creepers, all mind controlled and ready to kill for what seems to be an alien type force. Aliens are never seen in this flick, but, I was still chilled and creeped through most of this "B" style horror film. The movie is in German. I believe English Subtitles, French Subtitles, would really enhance the sales of this movie beyond the local crowd. Rolf is an excellent actor and I believe his role was extremely supportive of the other woman's parts.

Great job to Rolf and his co-actors and to all the producers and extras that made this movie so interesting. I am looking forward to his book and to his next film.

Janie Pendleton, Novelist
Best War/Romance Novel 2008 Award Winner




Keith Hardesty-Newell [ 4-Nov-08 10:26pm ]

Rolf.is genuine and kind person.
It is a honour to have him as a contact.
Our common bond is a great respect and love for Mexico.
Look forward to working with Rolf.


Claudia Xavier de Lima [ 2-Nov-08 10:36pm ]

Rolf, your profile tells me you have an unique combination of ingredients
which makes you an interesting person to meet.

Looking forward to having a fruitful exchange!

Claudia
visual artist
www.claudiaxavierdelima.com


Svetlana Sambell [ 31-Oct-08 2:35am ]

What a gifted and talented person Rolf, his bio very impressive and life experience truly inspiring. Svetlana


A. Laurent [ 4-Jan-09 5:48pm ]

Rolf is like no one you have ever met before. He is a very hardworking gentleman with talent and drive. He will always be in my circle.


Claude Piel [ 17-Oct-08 6:15pm ]

Rolf is a very kind and fine person. The way he writes his messages, the way he communicates is so trusty and gentle. I am glad to be connected to him. Thanks to be around Rolf.


Maki Kosaka [ 22-Sep-08 6:31am ]

Rolf is very kind , open and has got a big warm heat!!! I am very pleased to meet him on Ecademy and I would love to meet him as personal in Switzerland some day soon!! Rolf, in the mean time, please take care and wishing your wonderful, successful day and life!! Love, Maki


Victor Marques [ 5-Aug-08 8:28pm ]

Dear Rolf..

I wish only great things for you and the ones that you love...Douro Valley is waiting for...
Kindest regards from the best region for Port wine,,
Victor Marques


Annette Hoppmann [ 4-Aug-08 11:35pm ]

Rolf is an open - minded, very warm-heated and kind professional ecademist.It is very nice to network with him and I
recommend to everyone to connect with Rolf!

Annette


Rolf Kellner [ 26-Jul-08 11:34am ]

Rolf, thank you very much for being an active Member of The Amazon Rainforest Club


Melinda M. Sorensson [ 21-Jul-08 7:33pm ]

It is an honor and a gift to be connected with Rolf.
He is warm, sensitive, grounded, and very much connected to the world around him.
I recommend that you connect with this gem of a person.
Melinda Sorensson


Janie Pendleton, Novelist [ 18-Jul-08 6:12pm ]

Rolf is an energetic networker and business cohert, he is very interesting conversationalist and knows what he is talking about. Be sure and add this creative thinker to your network

Janie Pendleton, Novelist


Adma Dababneh [ 13-Jul-08 5:17am ]


Rolf is very friendly and he connects with people on a personal level;
Great person to know and to be connected to.

Adma Huran


Jenny Zhang [ 11-Jul-08 6:29pm ]

I enjoy reading Rolf's writing, I would be more interested in reading his books as Rolf is a great writer and actor in his country. Rolf is very smart, humorous, versatile and gentle. He is also a lover of mountain climbing and sports. I strongly recommend you connected with Rolf and join his network.


DILEEP KUMAR KELATH [ 9-Jul-08 11:50am ]

Rolf is a great person, gentle and very considerate. He is one of the few networkers you really want to have in your network.


Maksim Tkachiboroda [ 8-Jul-08 4:13pm ]

Rolf, is an open and friendly person! I am happy to know him from the very start! You must know him for sure!